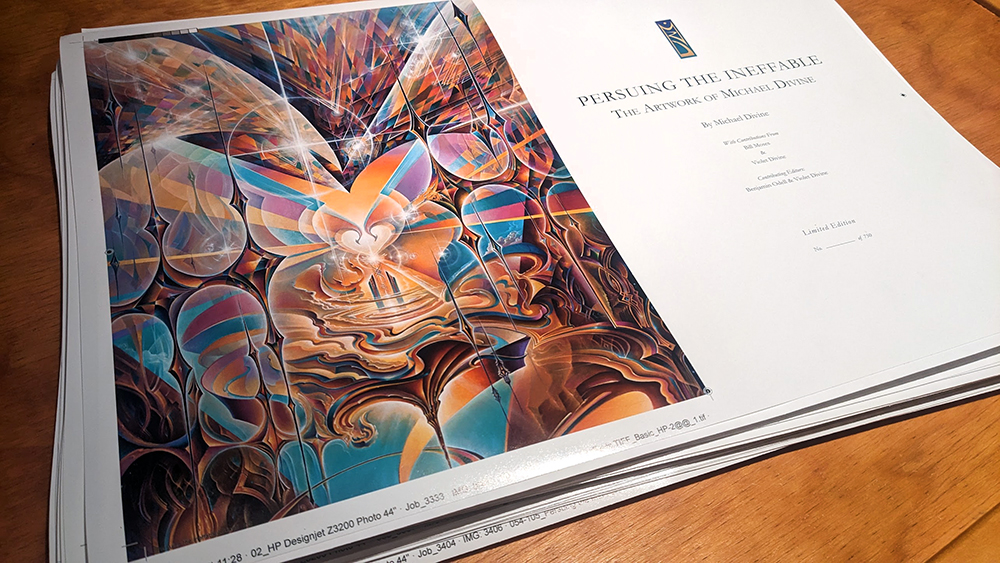 As you may know, I have a new book due out soon called "Persuing the Ineffable". (Yes yes, we know the spelling of 'persuit' is different than expected. Please give the book a read to see why.) When I finally had the first copy of "This Sublime Dance" – my first art book – in my hands, I knew immediately that a second book would follow.
Skimming through the pages of that first book, you could witness the 18-year journey of the artist (I think the earliest work in there was from me at age 16). What would another ten years bring? I am so much more efficient now, so much more patient and careful. But I am also freer in my expression and more connected to a deeper sense of spontaneity. I've made more paintings and fine drawings in the subsequent 9 years than in the entirety of the time span of "This Sublime Dance".
Here in our home, our bookshelves are filled with art books. We literally have hundreds of them. Almost all of these books – filled with weeks and years worth of creative output of artists from around the world – are written by someone other than the artist. In most cases the artist is long gone and there are essays by art historians or critics suggesting what the artist may have been feeling. There may be excerpts from letters or diaries but often there is scant first person reflection by the artists themselves.
In the books that showcase the work of living artists, there may be a brief introductory note by the artist and perhaps a short essay by a gallerist or other critic that tends more towards the biographical with some broad intimations about the art. Often though it's just 'here's the work.' Most artists, I think, shy away from writing too much about their work. Perhaps they don't feel their motivations are relevant or maybe they truly don't have much to say.
But I: I was cursed (or blessed) to be an essayist who is an artist and who's paintings are often visual essays. They are poems and odes and essays and songs in picture form, circumscribing the shape or form of the feelings and ideas and subjects of the paintings.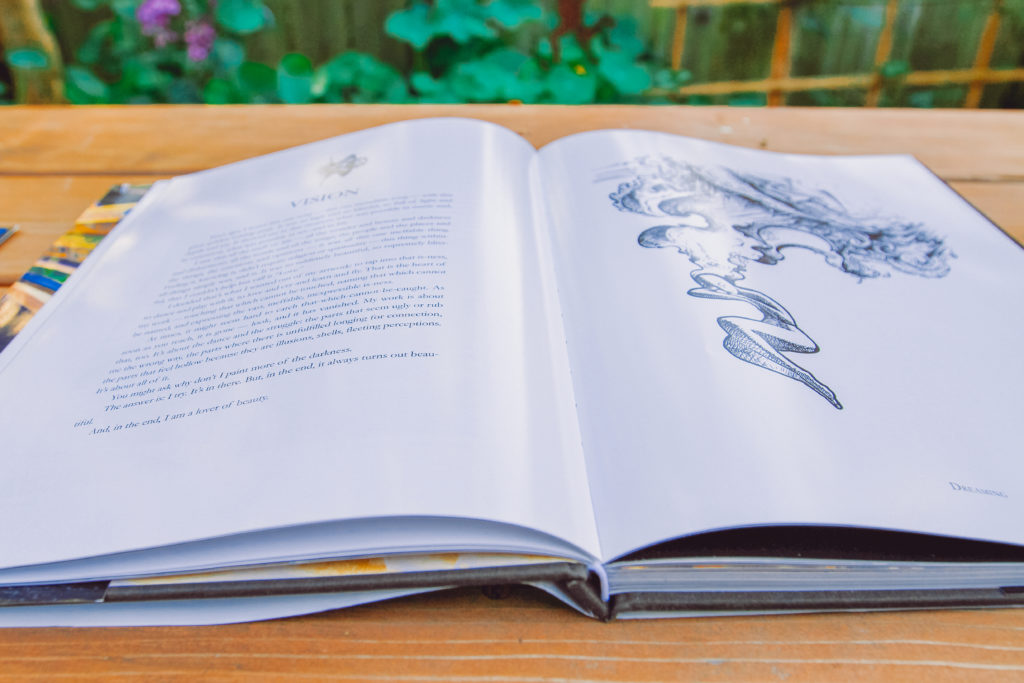 When Violet and I made the first book we concluded that it was a place for me, the artist and creator of the work inside, to have a chance to really talk about my work – where it's coming from and what inspires it – in some thematic essays so that, should the casual observer desire to dive deeper, the deeper dive was there for the exploring. Rather than broad brushstroke ideas, it would be a more nuanced approach referencing feelings and ideas, personal reflections and how they related to our bigger cultural timelines against the backdrop of the art and the art should exist against the backdrop of the writing. Which is to say: it is not window dressing but instead frames the work just as the work frames the conversation that the art is having.
Like the first book, this book is divided into some of the dominant thematic moods that I've explored in these past nine years through painting after painting, drawing after drawing, building on the ideas that came before it in the first book. Truthfully though, I think that this one dives deeper and, perhaps, soars higher than "This Sublime Dance".
In the end though, the book is my way – our way – of setting something down about my work and some of the things I've learned along the way. More than just pretty pictures, they are jewels I've tried to glean forth from this thing we collectively call reality. It can be hard to see what an artist is getting at if you just see one or two pieces. Even just scrolling through a website or Instagram you may wonder what the bigger picture is and, in this book, we've done our best to illuminate those countours and add shape and sensation to the bigger picture that is my art – where it's coming from, where it's going, and why perhaps a painting made 6 years ago and, eventually, 60 years ago, still resonates today.
It is for your bookshelf and your coffee table and for a quiet moment of reflection with a cup of tea away from screens and sales pitches where we simply explore the facets of this thing called 'being human'.