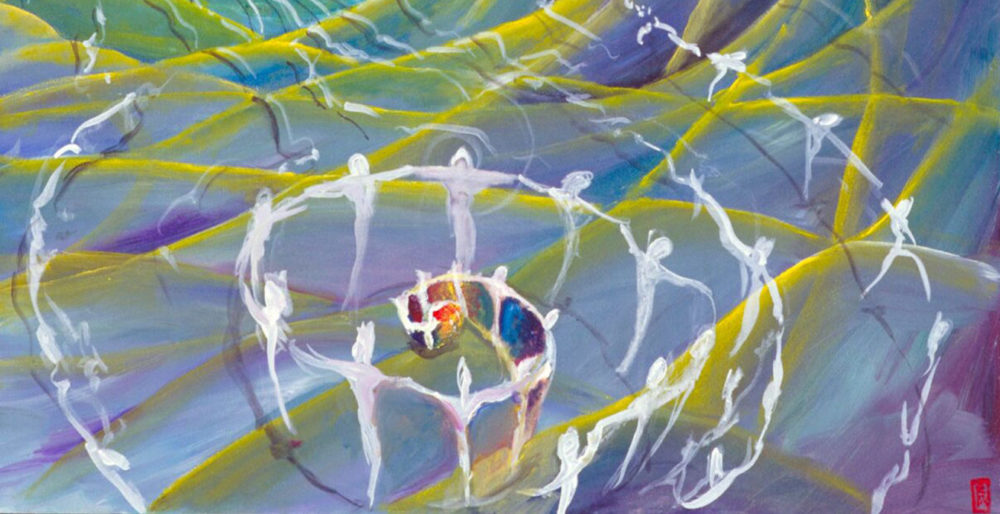 I was going through all sorts of files, updating web stuff, doing businessy things, cataloging and organizing, as one has to do. Sometimes I'm struck by the fact that there is just so much art I've created over many years. And much of it, I think, returns to this painting, Surrender (28″ x 48″), painted in 1996 when I was 19.Painting it was a turning point in my life. I'd had this experience earlier that summer which had left me filled with questions and doubts. Basically, I was struggling with letting go of the yoke of social and parental expectations.
In my sketchbook, during one of my classes, I made a drawing the vision I'd had – after getting twisted around through some dark and frustrated rivers of mental constructs – of this land I arrived into of just… endless exuberant love with the sky folding into the earth and vice versa and these beings just dancing over the hills grabbing pieces of clouds and LOVE was written all over everything. I decided to paint it – maybe just the third or fourth painting I'd ever made.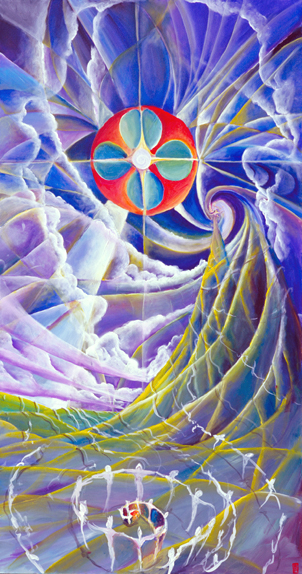 While painting it, enthralled by the color and the worlds flowing out of me, I had this moment – this flash – it felt like this book cracked open in my head and the pages were all flipping too fast to see and this voice – my voice? – was telling me that I could do this for the rest of my life . I could just paint. This book, flipping it's pages too quick for me to get a glimpse… And, it said, all you need to do is give up everything and go, go follow that muse.
It took some time. But not long. Eventually, I got rid of everything I had and, eventually, that summer, I formally withdrew from school and, as luck would have it, a good buddy of mine had as well (he later returned for his PhD in mathematics). Did I want to join him and some others in Vermont and work at a ski mountain that coming winter?
The rest… the rest is stories for other days.
But I look at all these paintings: so many moods and feelings and emotions, ego dances with the divine, blissful prostrations, the whole spectrum… The journey of this painter scribe… There's a lot of time, a lot of movement, a lot of paintings, between that painting and now.
And I wonder: what comes next?