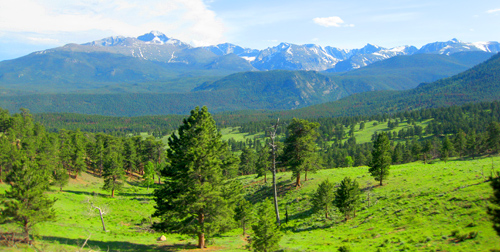 Giant raindrops intermittently pelt our windshield while the sun still streams through the clouds, casting rays of lights through long cracks in the cloud cover revealing a blue sky beyond. We are driving through the western foothills of the Colorado Rockies. From Boulder the highway crested up and over hills into mountains passing Loveland and Vail and various other ski mountains with still snowy peaks and multi-million dollar condos butting up against their feet, occasionally a mine along the river mining gold or copper leaving obscene scars long the hillsides. The aspen and pine intermingling til the pine leaves it for the higher elevations. The mountains just as quickly turn into shear cliffs along the Colorado River - the cliff faces jutting out at odd angles and millions of right angles of every size. Now the cliffs have turned to arid woods, chaparral and tall wide mountains that will soon again change to something else- Arches and Canyonlands Parks, our next destinations.
We left Boulder after a hike in Gregory Canyon and a breakfast of mimosas and eggs benedict at the Chataqua Gathering Place, a lodge built in the late 1800's for the advancement of education and the arts. Their wide green lawn and the copper red Flatiron Mountains as a backdrop made for a lovely parting meal. The day before we'd woken at the Alps Inn, a bed and breakfast lodge up a different canyon outside of Boulder where we'd spent the night of our first anniversary as a wedded couple.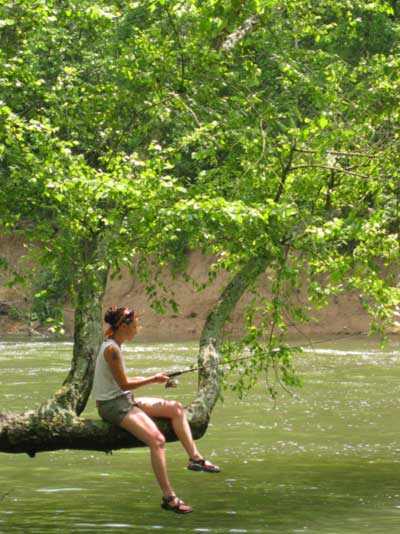 Driving through the mid west there isn't much to look at. curving sloping fields segmented by barbed wire fences and oaks give way to neighborhoods, shops warehouses and billboards advertising Nostalgia-ville with it's 50's and 60's icons - Elvis, I love lucy, Betty Boop and Scooby Doo - a time they hope to remember as simpler and more innocent. It's never simpler and innocent. Only different. There were wars and torture and drugs and sex and crime and corporations bent on poisoning the populace in exchange for a hard-earned dollar from father knows best. After Nostalgia-ville, Winery billboards pop up, maybe every tenth billboard, advertising wines - non-organic and not too special. Then we end up back with green wooded areas and cornfields. Endless cornfields. Soon, in the distance, we'll be in Kansas with it's own endless horizon of green. For now, wherever we are - Illinois? Indiana? - has become nothing but woods surrounding us.
"The Move Over Law" - a rule we don't have out in California but I can see the use for. However, I didn't know about it until a police officer kindly chose to inform us of it on our way from Nashville, TN to Bonnaroo. I'd made it a long ways at that point - all the way from San Diego - without any hassles. Safe driving, usually over the speed limit (except in Arizona where the red light camera are waiting at, seemingly, every curve to pop you and send a ticket your way). In Little Rock, AR I picked up Violet perfectly on time, right as she landed at the airport. She'd had final exams to finish, was without much sleep and I drove us to Nashville where we found a hotel. The next day, after going grocery shopping at the Whole Foods and breakfast at the Waffle House (not an ideal choice) we were on our way to Bonnaroo, early Wednesday afternoon, perfectly according to plan.