Writings: On Books
Books I like, books I've read, and Books that have yet to be. We have a huge collection of art books and I share some of those here. But also other bits and pieces along the way.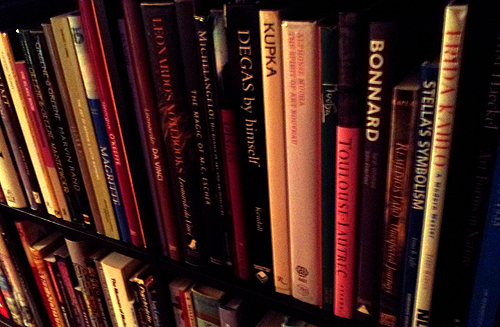 I started cataloging our art books today. Very exciting, I know. We have quite a library of books all together – between the art book collection, the dozens of philosophy books and the many volumes in between it spans more than a few centuries of knowledge and inspiration. What boggles my mind, when I look at the couple hundred books of paintings and drawings, is the lifetimes they represent. Hours, days, weeks, years of the lives of men and women who dedicated themselves to the creative urge. And each book – each artist – is a facet of a jewel that allows the light of inspiration to pass through it in a particular manner creating shapes, motifs, themes and designs, entire stories, entire lifetimes.
The books on the shelves are organized into several sections. One shelf holds the rather modern day visionary artist types – Robert Venosa, Mati Klarwein, Alex Grey, Gil Bruvel, etc – then a shelf of illustrators – Arthur Rackham, Kay Nielsen, Harry Clarke, Dr. Seuss, and more – then art history – historical movements like Art Nouveau, Surrealism, etc – and then, of course, many shelves of just artists – Vincent Van Gogh, Max Ernst, Michelangelo, Salvador Dali, Frantisek Kupka, Hieronymus Bosch, Gustav Klimt, and more more more.