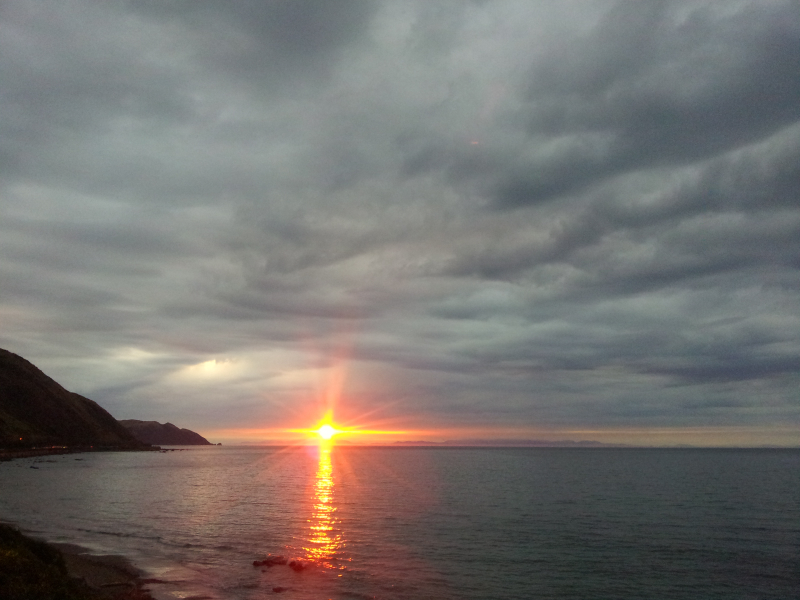 Businesses run on products: product conception, product development, product sales, product redevelopment, and so on. Products products products. If we are not buying a product then we are producing a product or selling a product or discarding a product in order to replace it eventually with another theoretically superior product. These products are largely made for two reasons: to make money for the creator/sales person and to satisfy a utilitarian need that some aspect of our human existence has necessitated. Sometimes that aspect is basic: a shirt to protect us from the cold, shoes to protect our feet, etc. Other times – and this is often the case – the need goes much deeper – products are bought and sold to satisfy a desire to be attractive, to be beautiful, a desire to reflect some part of our perceived identity, and, most importantly, a desire to be loved. In the end, it seems difficult to decipher the difference between 'basic need' and 'desire'.
Artwork, at its purist, at its most whole, is born from the desire – an inner urge – to create. It is the desire of self-expression and bringing something new into the world. That urge drives us forwards – compelling us to always do more – because that which we have already made is never fully satisfying.
From this act of expression arises a piece of work which, if we can let go of the need to show people up, or prove ourselves, or tout our skills, or impress our friends or loved ones… if we can let go of the desire to make a new product, fill up our own shelves… If we surrender instead to that creative flow and just drown ourselves in the act then the work which arises from that pool is a thing of beauty. It may be nightmarish. It may be the heavens unfolding. It is the all and everything. It is, at that point, an act of love.
Art in and of itself is not a product. It can go on products. It can be housed with products and ultimately, it does become a commodity. But in its fruition, in its blossoming into the world – it is merely the act, the creation, the vision. And so when we sit down to do our art, that creation should not be a means to an end. It is not the basic utilitarian urge driving it. It is not and should not and CANNOT be done as a thing merely to make money. Thinking 'how much am I going to make from this piece?' merely serves to limit its expression. We put it in a box with a set of conditions and value structures that our brain is constantly folding over it and and we will forever consider: have we put 'enough' in for the value it is supposed to have? True art making is an unconditional act.
There is the myth of the Starving Artist. The artist does not starve because he or she is afraid of "work" or because no one is buying his or her paintings. Sometimes, and I have been this artist, the artist 'starves' (or at least is thinner and hungrier than most) because everything other than art making seems purposeless. The artist doesn't wake in the morning saying 'o how much money I will make today.' Or 'I will do a good job and my boss will like me.' Or 'I am quickly moving up through the ranks, maybe I will get a raise.' Everything else is merely feeding the ability to return to art making. So we nudge things along sometimes in order to create enough space to do our work and surrender into the Act.
There is no end product. All art is ever only the detritus being HUMAN. Art is the expression of living. Of breathing. Of seeing. Of one's own personal vision. Art speaks to and from this act in some way (and this is ultimately why art can be valued so highly but we'll get into that another time…). Ultimately, though, the end product is the Self Which Has Created The Work. That is Art as Path.
We artists, we often do just enough to create a space for ourselves and hope that everything else will fall into place, just as it does in our work. This is why it can be difficult sometimes for artists, on their own, to also be marketers and promoters and sales people and so on. It is a business to run that fills up the schedule.
Give us things! People ask. Market to us! Because then we'll know how to choose what is best!
In a world that is constantly pushing consumption with a thousand and ten flashing ads, how do you stand out anymore? How do you even share your creation?
So we go back to square one: art as an act of love. It will shine through. It may take time: the first painting, the first bit of writing, the first moment… May slip under most radars. But then there is the second, the third, and so on. You are playing a symphony all on your own. It takes time for others to pick up on that tune. It takes some patience on your own part.
As a symphony, however, it's best to learn to play all the instruments. Think of your art as the lead violin. It is, anyhow, the instrument that sings – the one that all of the other instruments are framing. Perhaps the web master hat is the oboe and the accountant hat is the kettle drum and the archivist is the cello and so on. This is learning to play your art and all of those hats as a symphony together, rather than as separate components.
However, this still brings us back to the actual creation of the thing. I have sat with business leaders and motivational speakers and all sorts of people. They tell me the steps I can take to build my email list and get more Facebook followers and create affiliate programs and so on. All of those steps continue to define me as a product, a commodity, with an ideal, a soundbite, a public image, easily consumable and digestible for this fast paced world we are told we live in.
And all of these steps always look to me like they lead away from sitting with the vision, this raw unfolding thing.
I consider this painting on my easel. It is a painting commissioned by someone. Certainly there is a desire for them to be pleased with it. Of course I want that! But I can't let that be a driving force: 'gosh I hope they like this! I hope this reflects the value we have ascribed to it!' And so on. There are all sorts of thoughts that arise: how many hours am I putting into this? Is it enough? Am I working hard enough? All the stories and the product outcome and the chatter and nonsense. All the self-image and ego and drama and dreams and clutter – detritus of a consumer culture that echoes through my psyche from countless ads, commercials, social norms, and societal structures and, who knows, is maybe just part of the human experience which I am working through in my own way.
Would I make this for nothing? For no return? There are projects I engage in like that – where the cycle of returns has a different value structure. But in the end I do have bills to pay and rent and phone and all the other trappings of modern life – not to mention dreams: owning land, a home, etc. And my time is of value and I've spent hours practicing and practicing what I do. And, in the end, I have a thousand other paintings to paint. So we create value systems and we give to each other in exchanges in order to support growth: in ourselves, in others, in the world.
Because of exchanges like that, people say that it's money that makes the world go wrong. I think that's incorrect. I imagine that it is love that makes our world go round. Without love, we are useless empty shells, consuming, never-endingly consuming. We are just some more product creators, at that point. Yes, the world will go round, but without the love, it will be a greyer place. Without love, I could never bring this painting on my easel to the place it wants to go – to the place I want it to go. Even if this emotion of 'love' is in our imagination – even if it is merely a story I have made up – a feeling conjured up as a reflection to a thing I can call 'not love' – then it is, to me, the worthwhile driving force I have found. This love of creation, A love for others. A desire to bring love into the world. Even just the sensation of dancing with the creative act – this sensation that, followed, seems to conjure up, for me, my most ideal self. When I turn away from the canvas, it is what drives me to be more compassionate, to make smarter decisions, to care for others, and to give of myself.
There is only and can only ever be the present moment when making a piece of art and, to find that core passionate creative force – to create from that place in the making of our art – whether it be painting or writing or baking bread or driving a truck or helping others in whatever our paths may be – and whether our work be light or dark, sweet or otherwise – enables us to create something that ultimately feels like a worthwhile pursuit. I imagine that a thing made from a place of loving-kindness is ultimately more nourishing, more valuable, more beautiful than it would be otherwise. It may take a while for the world to catch up to you. You may sit in silence, alone and wondering who hears, but to have played that note, that instrument, that symphony will, ultimately, allow you the happiest life you can imagine.
Were that the place from which all things were made from, I imagine we would have a happier and healthier planet.