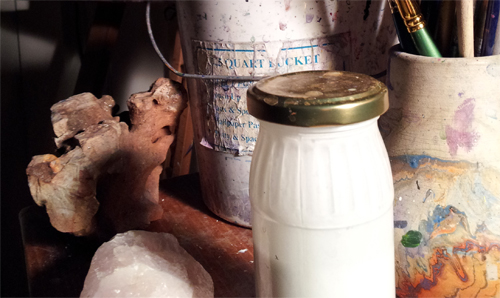 When it's night time painting I usually just can't paint any more after 2am and five or six hours and my hand is cramped and my back aches and my eyes are starting to blur. My brushstrokes start to lose their precision. The good thing is that means I've covered a lot of ground. Painting is about 'the process' as much as 'the product'. Sometimes, it's just a lot of blanks to fill in. Sometimes it's the miraculous edge of everything. It's a story being written in real time and I'm following a line that leads to an inevitable conclusion. There are nuances to be explored, and colors and lines to be enunciated but the gist of the piece – this piece that I'm working on right now anyhow – was decided long ago. I am merely completing the vision.
While I paint, my mind wanders through the many worlds of my life and my heart travels through multitudinous emotions the way one might try on different outfits. There are the pure zen moments of one thought no thought. Or elated loving moments where my heart is glowing and it just feels so… good. While everything passes, I so appreciate those moments. It never hurts to simply center one's sense of consciousness in the center of one's chest instead of in the center of the head, where we tend to look out at the world from.
O painting, it has taught me so much – so many little things that apply to my life. So many big things that have opened up inside me – grand a-has! – sublime epiphanies – eternal love – sweetly understood connections.
Here are some thoughts on painting that have tended to have metaphorical meanings to my life:
1. The color on your palate will not be the color on the canvas. That color, so carefully mixed, will likely end up looking at least a few shades different once you place it between the blue and the orange. Is that the color we were looking for? What thoughts do we have that are actually incongruous with reality? Everything is relative!
2. The epiphany does not always occur when one is painting the eternal light bliss cloud. Most times, it is win the corners, the crevices, the shadows, working out the details, trying to understand the mystery.
3. Be prepared for the unexpected. Go with it. It might lead somewhere great. However, always be prepared to completely disregard it. Sometimes the great tangent leads only to distraction. Which leads us to…
4. Sometimes, all of your hard work leads to an object that needs to be one inch to the left. Or an entire field of color that is a shade too dark. Or an entire array of minuets who must be two inches higher. Or whatever. In any case – sometimes, after five hours or even two days you might step back and say: I did it wrong. And if you don't paint over it, if you don't take the time to do it right then you will always look at it and know that the painting wasn't quite what it could have been. And if you know this, then so will the whole world, whether anyone can put their finger on it or not.
5. When you get over the self-criticism, and do away with the self-doubt, you can create a sense of beauty that soars. How do you overcome these things? By practice. By showing up. By allowing all the voices to have their say but, in the end, following only your bliss.
6. Finally, few great paintings were ever created overnight. The painters of the greatest paintings lived their entire lives before them. They laughed with them, cried with them. They curled up inside them. They burst out through them. They went to bed thinking about them. They were transformed by them. Yet, we do not paint for just ourselves. We live our lives through our art in order to allow ourselves to be the shining lights that we are. In this way, by being that living art, we can be a catalyst of beauty.
To a true artist, the work comes as naturally as the breeze or the shine of the stars. Walls block the breeze from reaching our skin. Walls block the shine of the stars from illuminating our gaze. By breaking down the walls that hold back that flowing nature, we can reach deeper depths and higher heights and great NOWs.
There is a story of a bird wearing down a mountain by passing over it once every hundred years with a piece of silk. This is a long time. Think of your painting process like that. Every day, every hour, every minute, that bird is passing over that mountain. It is wearing down those heaps of self-criticism, of self-doubt, of fear of whatever, and every day the sunrise on the other side of that mountain is revealed just a bit more.
Occasionally we may burst through that mountain with heaps of dynamite. The heaps of dynamite are only successful if we are open to allowing it to do it's work. How do we become open to that? By every day allowing for that bird to fly over the mountain. By showing up.
If we complete all the little details of the painting and bring them to their highest height, then the grand vision of our creation will be the absolute grandest thing it can be. (until we paint the next painting. And the next.)
In the end, we are maybe just painting the tiniest toenail of eternity. There is nothing wrong with that, especially if we do it with love.