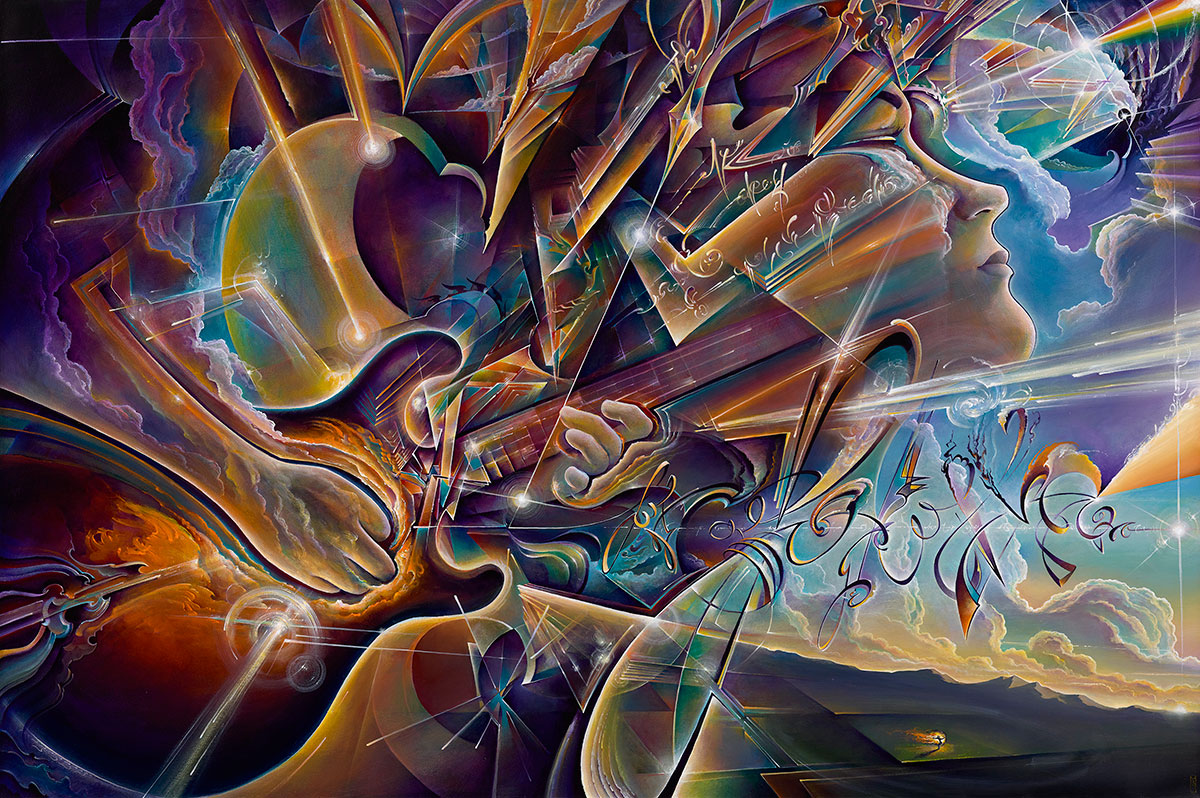 "Each note is like a whole universe. And each silence…. And the quality of sound and the degree of emotional… It's like the most important thing in the world. It's truly cosmic."

Jerry Garcia in "The Rolling Stone Interviews"
Loud fuzzy distorted sustained amplified strummed plucked looped shredded wah wah wah wailing upon and fed back through layer upon layer of chord progression melody line guiding me and dividing me and finding that perfect note, that golden chord, that crying out tone of my soul.
This is my homage to that instrument that has been this shining beacon in my life, the guitar. There are so many rock stars whose narrative melodies, soulful intonations, thrown to the wind ministrations on this instrument have triggered the unfolding imagination of my mind. My art, all of it, finds its harmony with the guitar. My paintbrush is the guitar with color and shape rather than sound. Etching along the space time tunnel in perfectly poised movements, some weird zen dance – the guitar lines and my brush – are one moment in motion flowing in gold. Every painting is another rock star fantasy.
I remember being at a music festival and, amongst the thousands of people, the multitudes of noise, the dust and mayhem, there was this beautiful high melody being played over the heads of everyone and I was like 'what. is. that?!' and I followed it and found a stage with this rather shriveled old man in a wheel chair and a guitar on his lap, glinting shiny silver in the afternoon sun and a huge smile on his face as effortlessly sang his soul through his Fender guitar and it was Buddy Guy and he was a master.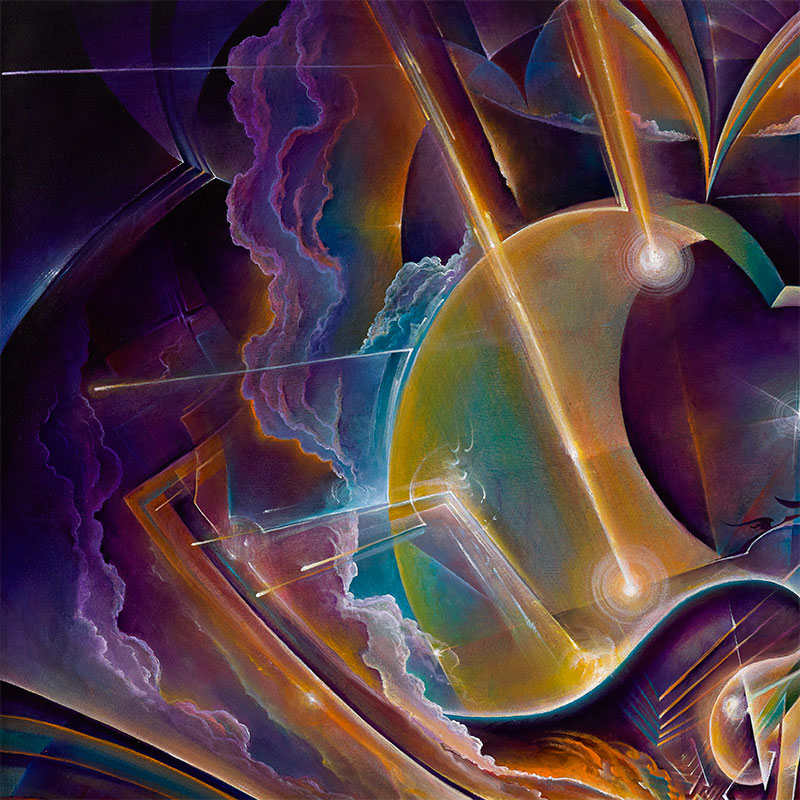 There's Jimi Hendrix and Eric Clapton and Jimmy Page and Jerry Garcia and Eddie Hazel and Thurston Moore and Frank Black and Slash and George Harrison and Trey Anastasio and David Gilmour and Kieth Richards and John McLaughlin and Kurt Cobain and The Edge and Van Halen and and and. I mean, there's so many. All these bands and their guitars: The Black Crowes, AC/DC, Pearl Jam, and whoever plays guitar for LCD Soundsystem and the various guitarists for Talking Heads and on and on and on… There's just. So. Many. It goes on and on. Some added one perfect note. Others, entire encyclopedias of sound.
It's the musical instrument of the 20th Century. Now, in the 21st C. it seems like the 'instrument' of the century is the computer. But the 20th C. was led by the guitar. And I followed it religiously.
I learned so much from that golden raucous everything. It can be delicate restraint then complete self-indulgence. It's all the rock and roll one can handle. It is, to me, the voice that ties the band together. It's a note. A chord. A sound imprinted on my heart. It just takes me and takes me and takes me and I go – willingly – with all the ego aggrandizement and dissolution at the same time.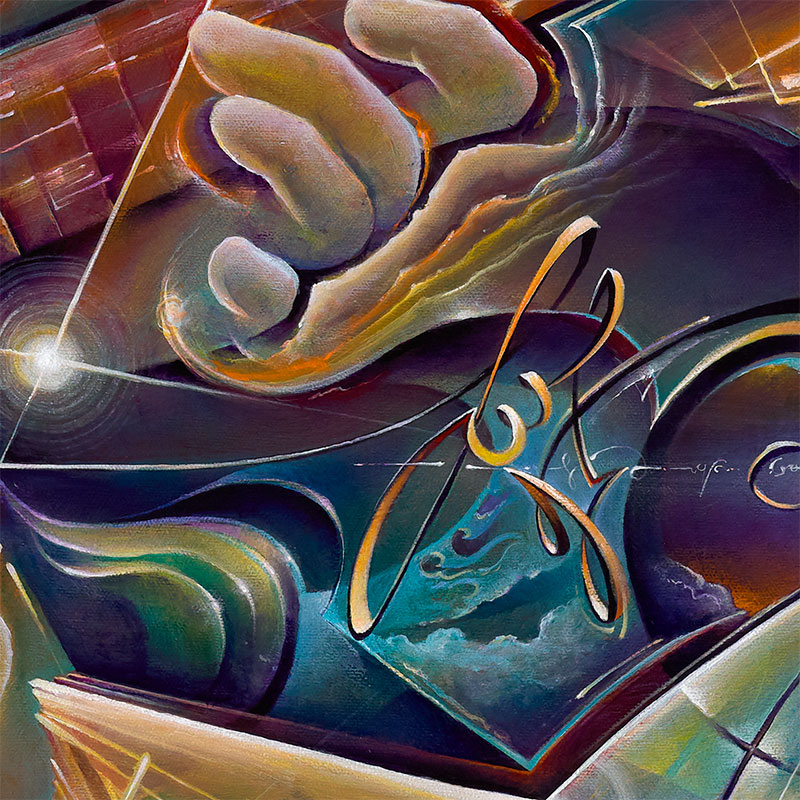 It is delicate curlicues of aural calligraphies written on the passing fabric of time. The best of them form elaborate sentences, paragraphs, whole novels of sound with beginnings, middles, and ends, where deep troughs in which we lose ourselves lead to high peaks from which the view is as close to infinite as is humanly possible, arriving at conclusions of sonic perfection creating, within that space of time, a sparkling, shimmering, twirl and dip, grip the underbelly, and shimmy through the spinal column, all of it never ending noise sound tone soul realization – is this the sound of infinity – is this the sound of the inner eye of the universe? It is the sound of sunlight glinting through the diamond jewel of my mind.
I'm so grateful for that sound – that roar – that has flowed through my life for several decades. It ripped into my soul. It took over my world. It never let go.
This painting is an homage to that sound, that instrument. It is a homage and thank you to all the great guiding lights who picked it up and wailed their souls on it. To all those epic rockers and their late late nights. All the sex and drugs and rock and roll. Whatever got you through the night. And that release you found – from our inner soul to the outermost edge of human expression that this instrument was capable of transcribing.
Somewhere, and I can't find where, Jerry Garcia remarked that the thing he loved about playing their song "Dark Star" was that it could open up anywhere – there were an infinite number of possibilities between any note and the next. I think of paintings like this and my favorites are those that seem to be able to continue to expand and expand – between any line, any curve, every piece unfolding to the next.
So I borrowed a line from that song, titling the painting "A Transitive Nightfall of Diamonds" where each drop of that nightfall, each note shimmers and glistens, merging with the next, a cascade of sound, light, color, all at once.
This is a painting of self-indulgence. It is a painting of Rock n Roll.
Thank you, dear musicians, for all the good times you've brought into this world.