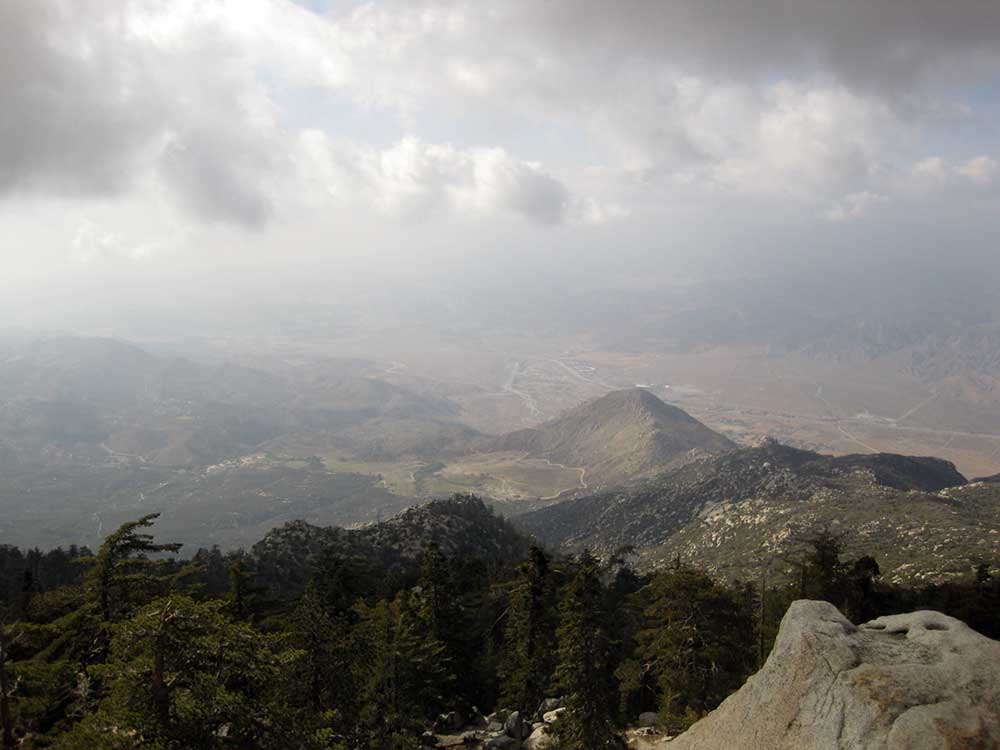 I left Violet at the lodge where her other philosophy friends from UCSD and UCI were having a sort of informal conference and drove up the road a piece to the Fuller Ridge Trail – drove up a twisting dirt road and parked at a gate. I started hiking… p and up. Into the still silence of nature abounding where there is no stillness but no incongruous sound, nothing is out of place. Bird song, bird answer. A woodpecker in the distance and another bird that zooms past me at breakneck speed. I sat for a while. Feeling my heart beating. My breath breathing. My joints and fingers and feet.
I hiked further and higher… into groves of towering Douglas Firs with long striations of bark in several dozen shades of brown and red and tan. I stood up close to it, my face inches from the bark and breathed in the musky woody scent, mingled with the cold mountain air. I felt it's tall peace and, as I stood there, felt myself – the roots and branches and leaves and fruits of my being stretching to the sun and the center of the earth. Maybe I looked like the "tree-hugger" type but that is such a misunderstood idea. A "tree-hugger" gets hugged back as well – but beyond that I felt like i was meditating there with this tree that was more than several hundred years old. It's bark attested to fires and storms that it has weathered – knobs and gnarls of knotted wood giving away where a brach was blown free in the wintertime and charred edges and the center charring – a tunnel within the tree that has been charred and blackened. I felt it and tasted it and thanked it. And moved on. I stuck my hand in the snow and stopped now and again to let my footsteps catch up with myself. And in that moment – the moment of being caught up – i found a center – and ever evolving moving changing and constant center.
I kept going. I was getting a bt light-headed- hungry maybe, low blood sugar, tired, maybe it was the altitude but I hadn't see my "spot" yet. I always find a "spot", a place to stop and breathe and feel everything a place that is high up and I can feel all of the elements at once. I'd stopped at a few rock outcroppings and a few tall trees but they hadn't been :"it" but then as I rounded a corner I saw an angled granite face lit by the sun and looking out on who knew what. I understood that to be y stopping point. There is never a destination – the journey and discoveries along way are all the purpose – but sometimes we find a spot – a place where we find ourselves a little more, a little deeper.
I climbed up atop that collection of giant boulders and had the valley and mountains spread out before me, dropping off steeply, surrounded by Douglas firs and other pines and brush, the clouds rolling away over head, a cold wind sweeping up from below and a warm sun that would peek out every now and again. All of life circling grandly and lovingly – look at us! feel us! feel yourself – my breath, my body, my spirit, my mind, my soul, my everything – all of this one vision, one illusion, one thought, one breath. I sighed a long long sigh, allowing for the fact that I would soon find myself back in my studio, back before my desk r my canvas. But I take a piece of back with me and I leave a piece of myself here.
After a while, I knew it was time to turn back. The wind and cold were beginning to bite and their bites were no longer playful. My light headedness had returned and it was still a five mile hike back. So I turned and ran, hopped, walked, hiked and occasionally cut between the switchbacks and took a tumbling gait down the arid sandy soil of sand and pine needles and dried oak leaves. I breathed, smiled, sighed and returned to the car. Listening to Sun Electric's 30.7.94 album I drove to a little general store, picked up a Cabernet and drove back in the  setting sun, as it cast its glow over the pine, turning them a golden green, to the lodge where dinner would soon be served.