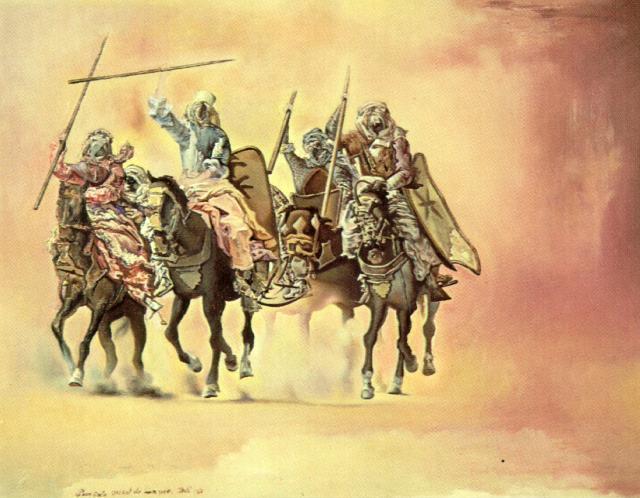 Study for 'The Battle of Tetuan'
Salvador Dali
1962
This little painting – it's about 7″ x 9″ – resides in the Dali Museum in Figueras, Spain, in an over-packed room filled with art and oddities, almost disappearing into the surrealist melange. You would be excused were you to overlook it.
It stopped me however because, in it's miniature stature, there is no room for muddling about. The paint looks like it was just laid on – in drips and dabs – in a beautiful effortlessness. That the final layer of just laying the paint on (whatever layer that is I don't know – it just happens at some point or another) is this lovely and beautiful thing. When others see it, it feels exactly like that: effortless.
A wash. A glaze. Dab dab dab of paint. Ease.
Dali's mastery is at work here is in the layering of the paint on the brush, the dip and swirl of the strokes with little to no thought, the casually graceful ease that it exhibits. It is like a perfectly zen little painting (for all of it's horseback dust-stormy chaos).
In my head I often go back to this little painting as a point of reference for my own work: a great painting should feel effortless. There shouldn't be a sense of muddling about and, if muddling about is required, that should look effortless too.
"The true painter must be able to patiently copy a pear while surrounded by rapine and upheaval."

– Dali from '50 Secrets of Master Craftsmanship'