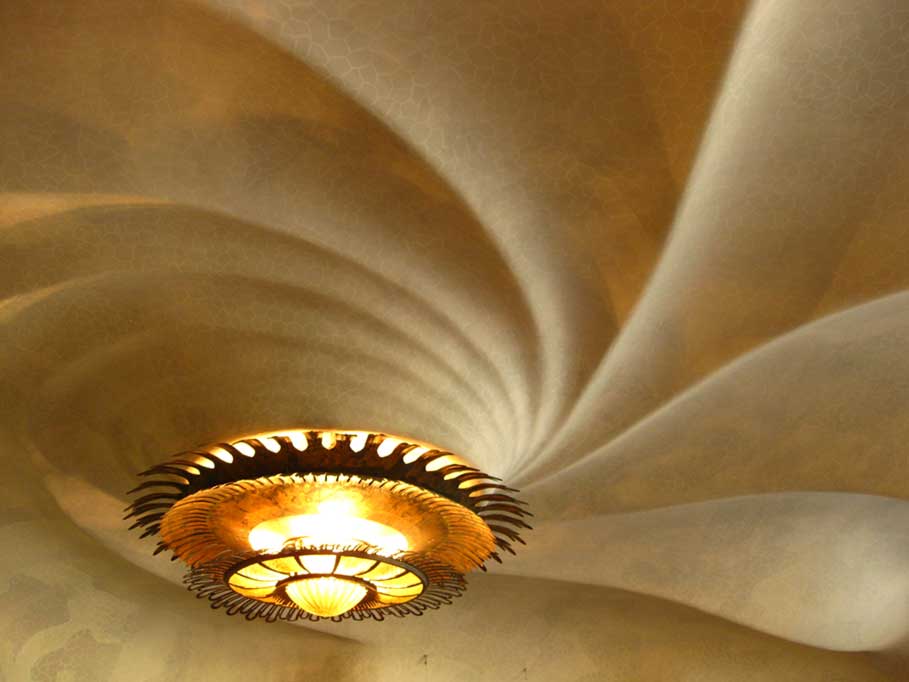 In the Barcelona airport our connection meets us: she is a friend of a friend who will be providing us with a place to stay and a few pointerswhile in the city. She is holding a sign reading "Michael and Violet" in a big heart. Cute! With our bags in tow we ride a train through the uninspiring outskirts of the city (like most cities…) into the heart of it – the "Born" district where she lives: a crowded area of tapas and bars and cafes and shops and narrow rock paved streets and elegant cast iron lamps, gorgeously sculpted cornices and building facades lined with curving spiraling wrought iron balconies and lovely old embellishments. One building has 12' tall griffins guarding it's rooftop while another is curling, twisting leaves framing faces of gods. But who can pay much attention? We collapse into bed and sleep til ten pm and I have dreams of days and nights passing, the sun rising and falling. When we awaken, we go and eat dinner and Jami takes us for a walk. We have delicious gelato and admire the city, loving the energy. She leaves us to wander and we return to go to bed by one, crashing on the sugar.
Awakening in the morning takes a while and we spend the day with a visit to Sagrada Familia – Gaudi's church masterpiece that towers with it's archways and peaks that look like drip sand castles or rivulets of wax and inside of each rivulet is another masterpiece, another heavenly doorway, strange creature or beautiful saint giving praise and all of it built upon foundations of natural rhythms- architecture built on the geometry of nature. Park Guell is another masterpiece of organic design but this time snaking and winding it's way through oaks and olive trees and succulents with whirlpool like columns and mosaic work that blows our minds. The next day we visit his two apartment buildings- Casa Basllo with it's underwater/art nouveau style that is beyond anything we've seen before and La Pedrera, an elegant piece of curves and parabolas and a rooftop that is like being on another planet. In between it all are tapas, cafes, park benches, shops, subway stations, gelato and taxi cabs. It's fun and noisy and full of people and things to look at and ancient architecture with layers of centuries of styles, compounding upon and referencing each other, communicating over decades and lineages… Later in the evening, while searching for the perfect paella and then watching the lightening from the shore, we get caught in a sudden downpour and, running across the sand, we make our way, soaked and wishing for the umbrella in our luggage, to a nearby awning. The rain vanishes as suddenly as it had appeared and we walk home laughing.
The next morning, it is time to go and we get our things packed, a tad later in the day than planned, and take a train the long way to the airport where we pick up a rental car, drive back in a spiraling direction to the apartment (which means we pass it from several directions a few times), pack up our things and drive northeastwards, out of town. Searching for a place to spend the night, I hit upon Montserrat in the guide book. We head there and arrived in the dark, high up in the mountains, to a quiet hotel surrounded by dark watchful shadows of monolithic stone. I get a tasty dinner of prawns, mussels and chicken in a delicious brown sauce along with a Crianza tempranillo wine from the restaurant in the hotel and bring it up to our room where we eat, drank and fall to sleep.