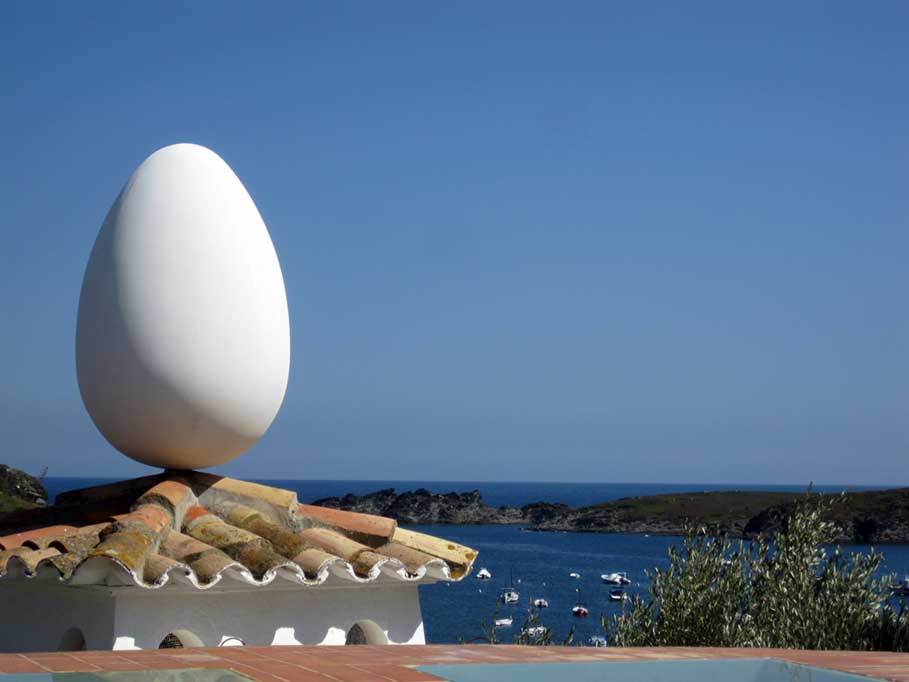 The road snakes down the mountainside, hugging it tight as the drop off down below cascades into layer upon layer of terraces made from the slate stone that makes up the bedrock of the Spanish landscape planted with rows of olive trees, dotting a pale olive green landscape with their gnarled branches and tufting leaves. We pull into the center of town, find a little hotel – Hotel Residencia – and I go inside while Violet parks the car. The hotel is bedecked inside with old Dali prints, books, gold and velvets with a cheeky mannerism – a homage to Dali, Picasso, Miro. I am given a room on the 3rd floor with a terrace looking out on the bay. I bring our things up through the hallways lined with Dali prints and find our room to have a sweet sort of charm, little fridge, Dali lithograph over the bed and a view of the bay with the noisy street below. I open a bottle of wine – a reserva from La Rioja and it's smooth and soft in my mouth, ten years old and delicious. I sit and enjoy it on the little balcony, in the sun, watching the boats bob in the turquoise blue sea while the sun pats me upon the head.
Violet arrives and we rest for a while then clean up and go for a walk. The tourists trickle out (we never feel so much like the tourist we see…) and we sit at a café, have a cappuccino and draw for a while. Violet keeps a travel journal and I like to draw out in my own sketchbook various impressions that are left on me from landscapes, architecture, people, concepts – from the Spanish Gothic cathedrals to the Gaudi mosaics to the steep craggy peaks of the Pyrenees – all of leaves an impression upon my own visual language and lines and every time I go somewhere, I'm left with a new set of symbols, a few new curves and concepts. After our evening café we walk along the edge of the waves that gently lap the shoreline, find some dinner at an Italian restaurant and then head to bed in order to get a fresh and semi-early start in the morning for the Dali museum.
I awaken before Violet, as usually happens, and go for a walk, sit at a Café, watch the sunrise, take pictures, notes, breathe for a while and then return to wake Violet who is already up. We shower, dress and are out the door on our way to Figueres. Up over the mountains again, down into the little so-so town of Figueres, Dali's childhood home. You can see why he left it for Cadaques. It felt a bit like why I left Milford, CT for Vermont and then California. Cadaques is a lovely little town with a soft yet craggy character while Figueres is old, dirty and has a hard love sort of energy. The museum-theater with it's bread loaf sculptures dotting the red exterior and giant eggs along the upper walls, is, well, an interesting exploration…
I don't think I can do it justice with my words. It is beyond expectations and, at the same time, less than we had hoped. Strange coin operated spectacles, the famous Mae West room, the massive bronze statue of some sort of goddess standing with arms outstretched given to Dali by Ernst Fuchs that sits atop an old, what, Mercedes? Rolls Royce? …inside of which houses a greenhouse with mannequins and plastic plants. The gorgeous paintings inside, feeling tragic and comic, exalting and irreverent, masturbatory and unifying… Some paintings defy our imagination and take our breath away, some make us… wonder…. The massive ceiling mural enthralls me the most with it's ten thousand Dalinian elements, it's lines that beget lines and angels that become angels, all of it an epic orchestration of color and form and symbol. Soon the crowds are overwhelming, Violet is experiencing low blood sugar levels and we need to leave.
After a quick snack outside at a café, we go into the Dali Jewels exhibit where we are treated to the dimly lit corridor of cases enclosing the most exquisite jeweled sculptures made to Dali's specifications – the golden heart with it's ruby blood beating, a golden bird-legged elephant with a massive tourmaline(?) atop it, all number of gemstone encrusted beauties and a massive painting- The Apotheosis of the Dollar which is like a reward to get to see, having not been treated to very many large scale hallucinatory artworks in the museum. It takes our breath away. With every one of his paintings, if you sit with it long enough and let your eyes relax and let the whole thing take meaning, you begin to see what he was seeing and, rarely, are you disappointed. With his freakish sculptures… well… that is another story.