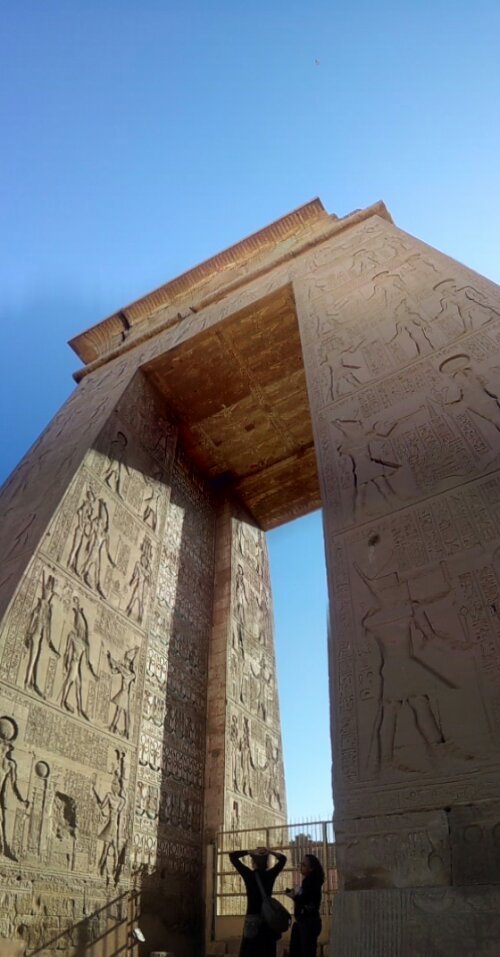 Observations, Experiences, and The Great Convergence in Egypt
Dec. 13 – 25, 2012
"We must be some kind of important," I said quietly to Violet as the six tour buses of revelers traveled quietly down the twisting desert road away from the Giza plateau and the Great Pyramids and a party so unbelievably perfect that the bus is actually quiet and now here we were led by Egyptian police on motorcycles with lights flashing whisked down down down through the sand and back into the city and decrepit neighborhoods and little fires on the sides of the road, old man looking up and taking note and not a traffic light to be stopped at, straight on through back to the safe bubble of the hotel, six busloads of tired mind blown ecstatic alive and wild people.
Wow, was all that many of us could say.
As I sit now in Alexandria in this spacious high-ceilinged café along the Mediterranean, drinking a creamy cappuccino (possibly the best coffee I've had in Egypt, save for those from the night before with Jimmy and Violet) and watching the minibuses and old German cars and newer Japanese cars pass by on the busy Corniche road that runs along the sea, it seems far far away. It seemed so very far away too with each moment that led up to it. Just before Thanksgiving we were invited, along with our good friend Jimmy (founder/curator of the Temple of Visions gallery in LA) to attend – to live paint and display artwork. Once tickets were in hand, the gears were set in motion. We were going to Egypt! It was surreal and real. New passports were ordered and expedited (the old ones were expired). I got really sick and hoped I'd get better. It all worked out. I healed thanks to Chinese Medicine and the passports arrived several days early. Packed and sorted and there we were, meeting Jimmy at LAX and getting on a plane bound for Cairo after a layover in Frankfurt where we ceremoniously ate sausages and sauerkraut and drank a beer.
Landing in Cairo in the night time, we exited the terminal into the thrall of taxi drivers all vying for our attention but my eyes locked with the suit jacketed attendant of a transportation desk in the main lobby. Young and clean shaven he spoke fairly and sported a shiny belt buckle that looked like a berretta. He arranged for a van to take us to the Giza train station where we'd booked an overnight train to Luxor. The cab driver, like most cab drivers, was happy for some listening ears and, in broken English, wanted nothing more than to tell us about Egypt, how expensive the apartments near the airport were (in the Heliopolis neighborhood – a million dollars a piece, in USD), how we shouldn't trust anyone in Luxor (Not entirely true. You can trust most people most of the time just not all people all of the time so proceed with caution.), and how Egypt is very good, very safe.
Once we circled around Cairo and into the rush hour thrall of Giza not much different than downtown LA. Street vendors and everyone walking driving riding honking. It was just a bit dirtier and a few more halogen bulbs and no bacon wrapped hot dog vendors. Cars passed within inches of each other and at first you think it's amazing that no one hits anyone else but then you see how every car is scratched and dented and a bit worse for the wear.
"Ah," said our driver, "Egypt is great but traffic. Traffic is a problem!" A comment heard uttered by many a taxi driver after him.
In the coldly lit office of the young station master in the Giza train station I tried to explain how I'd purchased tickets for the night before because didn't realize that the time change from the US to Egypt would make us lose a day and would it be possible to use those for today. We went back and forth with the cab driver translating. I was never sure who was pulling my leg. Violet and Jimmy waited in the cab. Finally I bought new tickets. There was no way around it. I'd have to eat the $127. It's things like that which make people in some countries think that people from other countries are made of money. We're not. We're just on different value scales.
The train showed up and our cabbie through much fast talking got us onto a car, into two sleeper cabins, and the cab driver is telling me that he needs me to give him all this money so that he can go pay for our tickets but I wasn't born yesterday and it's best to take care of transactions yourself, in any part of the world, so we gave a a handful of US dollars to the car attendant or whatever he was, the cab driver was off the train. The doors closed. The train started moving. Our two cabins had a door between allowing them to open to each other and there we three were, bound now on the night train for Luxor.
Our plan had been to arrive in Cairo and from there head to Luxor for a few days. The Great Convergence event in Giza began on the 20th so we'd be returning just before that. Luxor is considered one of the hearts of ancient Egypt with Hatshepsut's Temple, The Valley of the Kings, The Temples of Luxor and Karnak. It was a dream come true to see all these things.