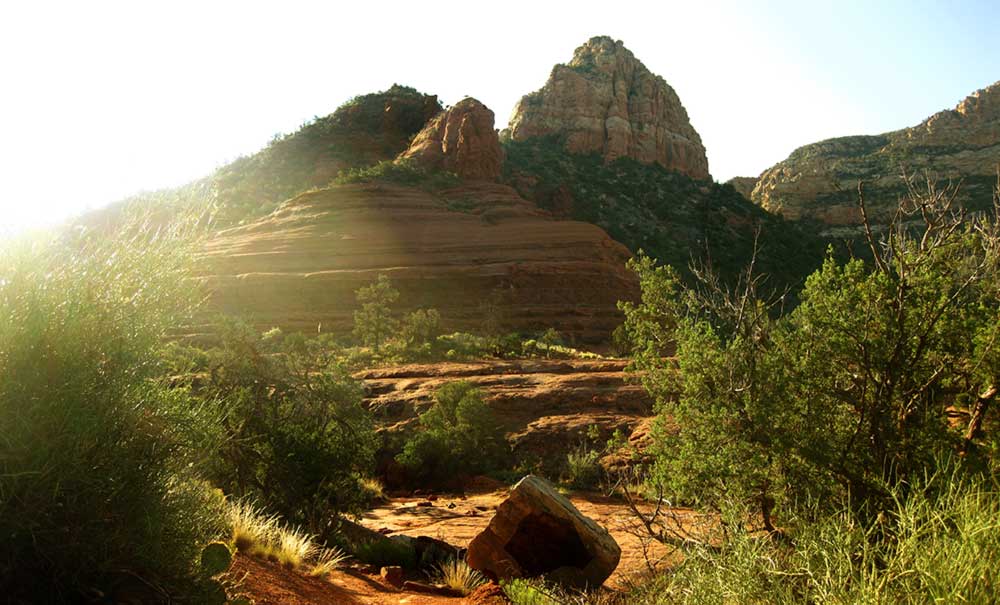 On and On and On.
This is the last chapter. I promise. Cause we're back and unpacked. But it was a while in getting here. The last stint of driving – from Sedona to San Diego with a stop in Quartzite to look at rocks in the insane heat went quickly, with us getting home at a reasonable hour. The rental car – that giant Toyota Sequoia we'd been driving – was returned without any issues the next day after a thorough cleaning but we left the Bonnaroo Vendor Vehicle sticker on it by accident. It drove off into the rows of Enterprise Rental car fleets, a little wiser, a good adventure under it's belt. The other cars looked at it with respect.
Sedona was a treat. Tasting wine, looking at art, an early morning hike into the giant red rock formations and climbing up onto their curving feet – high up so I could see the valley. Breathing with the world – the birds and trees and dirt and bugs and rocks and clouds. I'd open a gallery there one day.
Stay focused. Work hard. The universe responded.
Check.
A day or two before we'd been at the Grand Canyon which, following my morning hike and our drive around to the South Rim, was a bit less impressive due to the fact that cloud cover diffused the light to such a state that depth was a bit hard gauge – the reds and purples and oranges along with the insane fractaling depth to it were a but hard to read. Instead we were greeted by the subtle fractioning off of every curve, every bend, every cliff and drop – it drops, it ends, it curves, it drops more… down down down… almost as deep as every canyon of my own mind.
They say the Grand Canyon makes one feel very small. I felt just the right size for it. Like I could stare at it for a long long time.
I'd like to mention that, while we were there, I learned of an architect whose work I admired for it's nuanced attention to detail, no matter how trivial. That would be Mary Colter, the designer of the Watchtower at the Desert View area of the South Rim. Built in 1932, it's a simple building that is delicately rendered. According to Wikipedia she was "a chain-smoking perfectionist, she cared about backstory and attractive features." After the gift shop on the first floor – full of trinkets, knick knacks and expensive Native American pottery – the walls and ceilings of the subsequent levels are painted in Hopi murals by artist Fred Kabotie – delicately rendered, large, graphic, symbolic – they speak on many different levels and were something I hadn't expected.
The view from the top was very much the same as the view from below. Gaining 50 feet of elevation at the Grand Canyon doesn't change the fact that what you are looking at is very huge. At that proportion, your 50 feet higher is a drop in a bucket.
We enjoyed our last night camping, our morning breakfast, and then packed up, on our way to Sedona, where we spent the night at a hotel, tasted wine and at cheese at the Page Springs Winery (not bad, all things considered), poked our heads into a few art galleries, and had an enjoyable meal at ChocolaTree – a raw/vegan restaurant in town.
I woke in the morning, went for a hike, as I mentioned, and then, after a breakfast in the mountains, we were on the road, destined for home this time – as the final stop – to join our friends for a barbeque on the 4th. A lovely tour of the country. Our country might be short on brains sometimes but it has some priceless landscape. I hope it is treasured for a long long time.