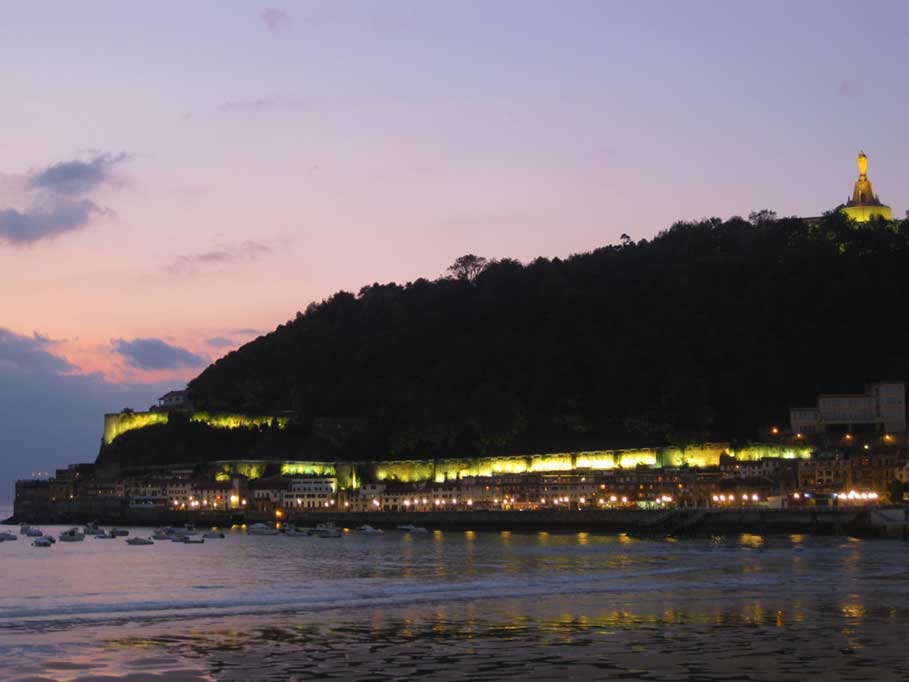 The next morning after breakfast we pack our things and make our way back down the mountains and through the vast golden farmlands towards San Sebastian, a seaside city near the border of France. However, on the way we stopped in a Sos del Rey Catolico in search of the Castle, Crypt and Cathedral but it was hard to find – we wandered too long through the little winding narrow cobblestone streets with their little balconies and archways, big old stone doors and monuments that have been there since before anyone alive there now can remember. We popped into a little store, bought some wine and cheese and finally found the Castle, but it was closed cause it was Monday so we wandered for a bit through the ruined remains that we could and then found our way through the giant archway gate and drove back down to the highway from the little hilltop town, passing other fortified outposts, ancient crumbling stone houses, cows grazing, mountains of harvested hay and headed to San Sebastian, trying to get there before dark.
It took us circling the town four or five times before we got the right route in to park and found a little pension to spend the night with dark hardwood floors, stone walls and a spot in the little old town district. We rested for a bit and then went for a walk through the stone streets, eating tapas from plates and mountained plates of dozens of flavors, drinking a glass of wine here, a glass of wine there, writing and drawing in our journals and taking pictures of archways, people talking and laughing in a dozen different languages, enjoying the French/Spanish Romanesque architecture of cupolas and sculpted wrought iron, stone leaf cornices and arcing triomph, walking on the beach under the moonlight along the curving arc of the San Sebastian port, flanked on either side by towering hills with lights climbing up their sides, playing along the sand, dipping our toes into the other side of the Atlantic… The next morning after a decent nights sleep I head out early to a beautiful sunrise over the bay, a café con leche at a Café, write some, draw some, check out the massive gothic cathedral with it's tiny little embellishments- so much of this that I see is reflected in Gaudi's architecture but more nuanced, natural and inspired from within rather than drawing simply on tradition and religious structure. I go back to wake Violet and she is up already. We shower and pack up and head outside. There are some kids fighting in the street while people look on – their sounds echo off of the stone walls, apartment buildings, streets- everything is stone, there is very little grass or trees, only in designated area. We buy some fruits and vegetables from a little market and go have breakfast. Soon we are in the car and on our way to France.
We cross the border, have a heated conversation with a gas station attendant who speaks no English or Spanish and feels I should speak French and we decide that we liked Spain better so we turn around and head to Bilbao along the coast, passing little inlets and coves, stopping for lunch at an overlook with the ocean far below crashing into the cliffs and then we zoom onwards past little towns and villages til we get to Bilbao, finding the Guggenheim without a terrible amount of difficulty. The Guggenheim is a building out of some kind of avant-garde dream of the future, if the future were draped steel, aluminum and glass to form a building that is more impressive than the art it houses. And the art it houses is… different. Avant-garde. Thought provoking. Adequately provoked in thought, we split for another lunch of bread, cheese, ham and tomatoes and then head towards Vitoria where we hear there is also an art museum that supposedly houses a better collection of Modern Art than the Guggenheim, which happened to have that entire section temporarily closed.
The night in Vitoria is at a mediocre hotel around the corner from the Artium, the museum we want to go to. We have a delicious menu del dia at a nearby restaurant, drinking a tasty wine and are up reasonably early. The bed sucks. Every bed we sleep on seems to sort of suck. Even cheap motels in the states usually have decent beds. What's up with that? Well, the Artium isn't open for another hour so I leave Violet to her writing and I go for a walk up through town, find some interesting murals on the sides of buildings and then head back to Violet. We check out the Artium and find some strange and more thought provoking artwork. Unfortunately, their main Modern Art collection is also temporarily closed. So, foiled again, we make our way into the Rioja region where the best red wines of Spain are produced.